INTRODUCTION

The aim of this site is an attempt to uncover the history of the Welrod pistol, as well as the distribution and use of it, during the German occupation of Denmark. There are only a handful of reports and descriptions regarding the use of this pistol, which most likely accounts for the fact that the Welrod to this day remains relatively unknown.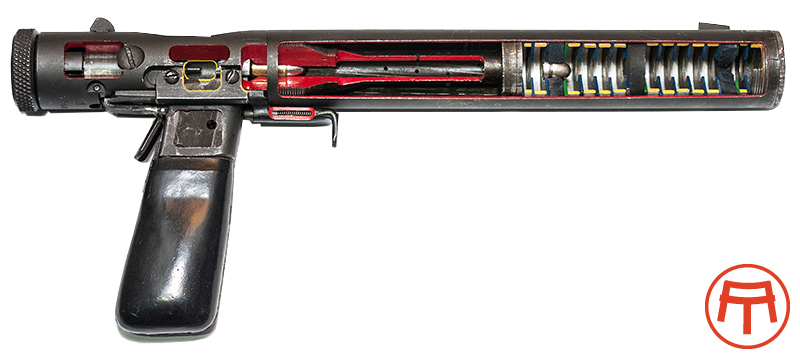 Welrod MkIIA © Anders Thygesen. Cross sectioned, note the projectile in the first rubber baffle.

Alas, in my view, the Welrod pistol gained an unjust reputation for being unreliable and lacking sufficient "power". But keeping in mind the purpose for which it was built, and accepting the inherent limitations of such a design, it entirely fulfilled its role. The Welrod pistol in my opinion is an exceptional piece of weapons-technology.

The Welrod was produced in three basic versions: the Mk.II and Mk.IIA, chambered the .32 ACP round , and the Mk.I, chambered for the 9mm Parabellum . I find the Mk.II and Mk.IIA, .32 ACP, to be the more interesting of the two, as it was the only version to be delivered to the Danish Resistance. However, in the interest of thoroughness, I have chosen to also bring a full description of the Mk.I.

The original history behind the development and production of the Welrod pistol has proven hard to trace. Most of the information regarding the origins of the pistol has either disappeared, or has been destroyed. Although the identity of the manufacturer is still not officially confirmed, copies of the original drawings carrying the B.S.A. stamp, has recently surfaced proving that B.S.A. was in fact the main contractor on the project.

In addition to the commonly available literature on the subject, I have obtained information part through correspondence with museums and different authorities, and part with the assistance of fellow-minded people throughout the world with a shared interest in historical weaponry. In the end, the accumulated material has been pieced together to relatively form a whole.